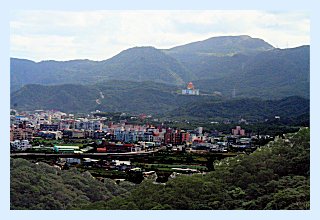 So, as I was saying, we found ourselves unexpectedly running into the Pali Canon on one of the last days of our trip through Taiwan. Specifically, we were at Dharma Drum Temple, to which is attached Dharma Drum University. As you can see by the picture, if you choose your university by its view rather than its worldview, it has a lot going for it (perhaps tempered a bit if I tell you that the big building across the valley is a crematorium).
Before going on I might just note that this entry is somewhat long and technical; perhaps even "geeky." Please bear with me. It all leads up to some worthwhile points.
The so-called Pali Canon is a collection of writings of truly encyclopedic proportion. The name is simply based on the fact that its largest and most likely oldest surviving version is in the language called "Pali," which is possibly the language that the Buddha spoke. Pali is one of the several languages that spun off Sanskrit. The Pali Canon is also called Tipitaka, the "Three Baskets," because it has three divisions: rules for Buddhist monks, teachings of the Buddha, and scholarly analysis of Buddhist teachings.
As we mentioned last time, according to tradition, much of the teaching material was recollected and dictated by Ananda, Buddha's own disciple, at the first Buddhist council in the early fifth century B.C. If a particular issue came up, or if someone was trying to recollect specifically what Sakyamuni had said, Ananda would concentrate, begin with the words "Thus have I heard," and then start to recite what was supposed to have been pretty much verbatim the words of Sakyamuni. Of course, many scholars, particularly those who are having a hard time believing that there even was a historical Buddha (Sakyamuni), question the accuracy of these alleged recollections. However, as I keep contending, we Christians need to be careful not to buy into the unfounded skepticism of religious scholarship that we so heartily reject for the Bible, when it is applied to other religious texts. Furthermore, I've known people who have had the kind of auditory memory that is being ascribed to Ananda. So, to put things cautiously, it is credible that the Pali canon does, indeed, contain some of the direct teachings of Sakyamuni.
Still, over the centuries, the Tipitaka swelled by constant addition of new material. Some of it, no doubt, consisted of the rewriting of popular traditions into Buddhist thought forms. The complete Pali canon stems from no earlier than the first century B.C. The Pali version of the Tipitaka is the most complete, and although some of it may be a fairly accurate rendering of the first generations of copies of the original as well as the first appearances of additions, there are other versions of it, some of which include different material: several in Sanskrit, and others translated into Chinese, Korean, and Tibetan. The overarching problem for scholars analyzing the early manuscripts is not textual precision--that is a lost cause---but simply identifying passages that may or may not have been a part of the original. Starting about the thirteenth century, there are wooden print blocks of it in Chinese and Korean, and so from that point on the translated texts into those languages have stabilized themselves.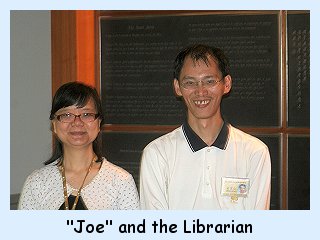 So, anyway, since the visit to Dharma Drum came towards the end of the trip, I won't get into the specifics now, except as they impinge on this discussion. I never really caught our guide's name (a volunteer, not a monk), but his name tag revealed that it was

. Let's call him "Joe" since that's a little easier on the orthography. I guess I must also mention that we distinguished ourselves a little bit by asking our friend some questions early on in the tour that he couldn't answer, and so he called in an American professor of Tibetan Buddhism at Dharma Drum University. He answered them in the common academic manner by providing nomenclature rather than insight, but we had a pleasant chat. Regardless, my point is simply that we manifested a bit more intellectual curiosity than they were used to.
(Jimm W., skip this paragraph please.

) Based on that impression, after lunch, Joe suggested that we visit the library, a thought that did not particularly inspire me since it was located several hundreds of steps up a hill, and libraries are not usually places you visit for just a few moments, and you have to be really quiet, and you have to be extra careful not to spill anything, and they never ever let you run, not that I wanted to. But since I did not particularly stress those matters, I was out-consensused, and we made our way up and entered the bibliophilic premises.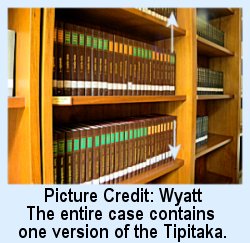 I changed my mind.
The part of the library that Joe wanted us to see was a collection of various versions of the Pali Canon: some authentic ancient ones (to which we did not have tactile access), reproductions of ancient ones, and multi-multi-volume translations into both ancient and modern languages. Wyatt had been excited all along, and now all my fatigue left me instantaneously. We could have spent hours there. Joe and a very pleasant librarian (who, by the way, never once shushed us), offered to xerox for us a page from the Pali version, and I've copied it here.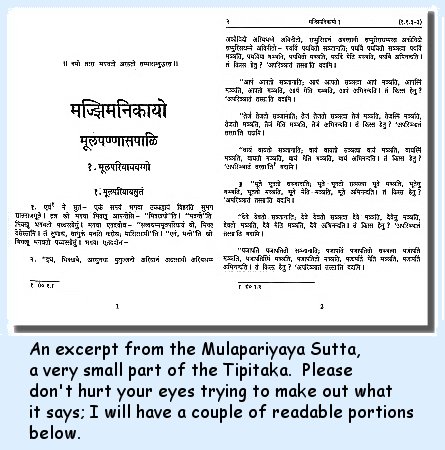 It is the beginning of the Mulapariyaya Sutta, for which you can find a complete translation and introduction by Thanissaro Bikkhu on the website Access to Insight: Introduction to Theravada Buddhism, literally the Sutra about the Conversation on the Root.
Here is where I'm asking you to hang in, even if this looks pretty off-putting at first, and you've never seen anything like this before nor would you have chosen to. As you will see, this is a lot like a game, actually. If you've had any experience with Hindi or Sanskrit, you will immediately recognize that Pali uses the Devanagari alphabet. The most obvious difference that strikes the eye is the dissimilarity in the spelling of various words. Not that there aren't also grammatical differences to Sanskrit, but it's the spelling that really stands out.
Okay, novices and budding experts togther, let's start with the word sutta. It is, of course, the Pali variation of the word sutra. So, in the title
(mulapariyayamsuttam),
the last part reads

(sutta) rather than

(sutra) as it would in Sanskrit. The little dot over the final character in the Pali means that the "a" is nasalyzed. By the way, the thing that looks like a question mark is the numeral "1," and the period after it is a concession to Western conventions. It is, after all, a contemporary printing.
So, what did we notice with the word "sutra" as it was transformed into Pali? Pali became more nasal in its pronunciation, but--much more importantly, it dropped the "r" and doubled the consonant. This is a pattern we encounter throughout. Here is an example from the top of the second page:

I highlighted two uses of the word

(dhamma), which is the Pali version of the word

(dharma), whose meaning includes everything from the fundamental rules of the universe to the truth of Buddhism to the means towards enlightenment. If you read the Venerable Thanissaro's translation of this sutra, you'll see that in this case it refers to the rules of the nobility (lit. the Aryans) and the righteous men (lit. the "sannyasin," i.e. monks who have withdrawn from the world), of whose dharma the hypothetical common person is ignorant. But to come back to the language, the Devanagari alphabet has many ways of indicating the letter "r," which is considered a semi-vowel. In dharma it is indicated by that half loop over the last character, which is a "ma." So dharma in Sanskrit becomes dhamma in Pali. Sometimes the consonant changes slightly as well. Thus, for example, nirvana (Sanskrit) becomes nibbana (Pali).
So, with a little bit of luck you can take a Pali word and make an educated guess as to what its Sanskrit predecessor might have been. I called the "Three Baskets" the Tipitaka. That is the Pali word for it. What might it be in Sanskrit? You're right: It's Tripitaka. Since there were no doubled consonants, the original "r" must have been at the front of the word, and so we just needed to add it there. The syllable tri also shows us how nicely Sanskrit lines up with general Indo-European patterns. We didn't get the use of "tri" to indicate "three-ness" from Sanskrit, nor did they get it from us nor the Romans nor the Greeks; it's a part of our common I-E heritage.
Let's now take a quick look at the first paragraph.

The quotation marks, commas, and dashes, not to mention the footnote indicator, are additional accommodations to Western style. Classical punctuation consisted of only two signs:
the first one designating a short break, such as after a line in a poem, the second one calling for a full stop (thus resembling a comma and a period respectively). The first words constitute the famous formula ascribed to Ananda and copied by imitators and forgers ever since:

Eva me sutam. ("Thus have I heard.") It occurs to me that there could be some confusion between suta here and sutta earlier.

sutta ("sutra")and

suta ("heard") are two different words. See if you can find the little line that doubles the letter "t." in sutta !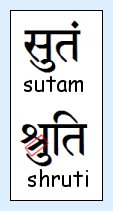 Ok, then, if you try to revert suta back to Sanskrit and follow the previous formula, how would you do so? You have only one consonant in the middle, and if you just add an "r," you would get the same word sutra again. But that wouldn't make sense for Sanskrit any more than we just said it would for Pali. So, just like with tipitaka/tripitaka, we have to look at the front of the word again. But in this case it's just a little more complicated. To turn the Pali back into Sanskrit, you also have to change the type of "s" from the straight-forward hissing sound to one that's better transliterated as "sh," and then you do add the "r" to it, resulting "shr." I drew a little red rectangle around the little bar that stands for the "r" in this instance. Now make one further grammatical adjustment and you get shruti, the word that is used in Hinduism to refer to the holiest texts, such as the Vedas, those that were supposed to have been "heard" by the rishis ("holy semi-divine seers") of ancient days.
Now we get to the pay-off. What does the little formula, "Eva me sutam--Thus have I heard" really indicate then? It's a reappropriation of the notion of shruti, indicating that the text that is about to follow is the real shruti. Buddhism is sometimes considered to be one of the two "heretical" schools of Hinduism (the other one being Jainism), primarily for two reasons. It rejected the caste system, which was already finding its place in Indian society in the sixth century B.C., and it rejected the authority of the Vedas and their accompanying texts, all of which are considered shruti. So, instead of the Hindu shruti, we get the new shruti, except that it is now expressed in Pali with the phrase: eva me sutam. In other words, the new formula may be a compliment to Ananda's memorization skills, but that's neither here nor there. More significantly, it is a dramatic claim: "You are about to hear the genuine revealed truth."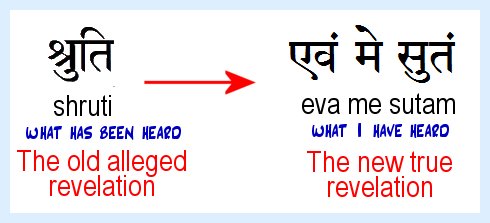 This is, of course, only a relatively minor insight, which presents little surprise in the history of religions. And I could have simply told you this right at the beginning without confusing you with all those illegible symbols. ---- But wait! What makes them illegible? They are, after all, languages, encoded in an alphabet. If they are illegible to you, it's because you don't know the languages, and I don't blame you if you don't. Most likely, you've never even had much of an opportunity to learn them. I've had to teach myself.
Thus, we come to my polemic. Serious evangelical Christian seminaries have their students become competent in all three biblical languages: Greek, Hebrew, and Aramaic, and we justifiedly react negatively to those who interpret the Bible in direct contradiction to what it plainly says in its original languages or to those, such as Jehovah's Witnesses, who clearly distort the Greek text in order to support their heretical doctrines. Furthermore, some of the best schools offer the opportunity to delve deeper into the ancient languages prior to and coterminous with the Old Testament: Moabite, Akkadian, Edomite, Egyptian, etc. This is very good because it contributes to our understanding of the biblical text and biblical history. I would not want one less credit unit of these ancient languages offered or taken.
However, here is another point to consider. For quite a while now, neither Moabites nor Akkadians have provided too many significant intellectual challenges to the truth of Christianity. Whatever is written by them is past history. On the other hand, Buddhism is alive and well and intent on swallowing up Christianity, and if we want to do any meaningful apologetics, we have to be able to read their scriptures in their languages. How do I know whether Ven. Thanissaro's very elegant translation of the Root Sutra is accurate or whether he is deliberately covering up items that could possibly turn off the people he might be trying to reach? How can we know whether the Theravada Buddhism presented on that site really is Theravada Buddhism or just an accommodation to Western tastes? (For what it's worth, from my vantage point, this appears to me to be an excellent site and a good translation.) Without knowing some Pali, we won't be able to make such assessments. Many of the more popular translations of Eastern scriptures into English bear only a faint resemblance to what they say in their originals. For example, a popular translation of the Bhagavad Gita makes references to churches and mosques. Are they really there in the Sanskrit text? How will you respond to someone who brings up that passage (without writing an e-mail to me

)?
And I'm wondering--and this is a radical thought--are any Christian schools at all contemplating training their students in classical Eastern languages?
This has been a long entry, written sporadically over a strenuous weekend trip visiting June's aging and ailing Mom in Michigan. I thank you for reading this, and I hope that you might catch both my excitement for this kind of study and the ache in my heart for those who need the truth. I'm praying that Christians who are excited about apologetics would also become excited about the hard study necessary to do apologetics well. We cannot afford another generation of American Christians who spread the absurd notion that Buddhism is a form of pantheism. Buddhism has come too close to us to keep getting it wrong. (Hint: Look at the courses offered at major universities these days.)
Next time a culinary topic: Lunch with the monks and nuns at the monastery.